Vonic

Masta


Posts

: 575


Join date

: 2010-05-30

on Wed Nov 28, 2012 1:18 pm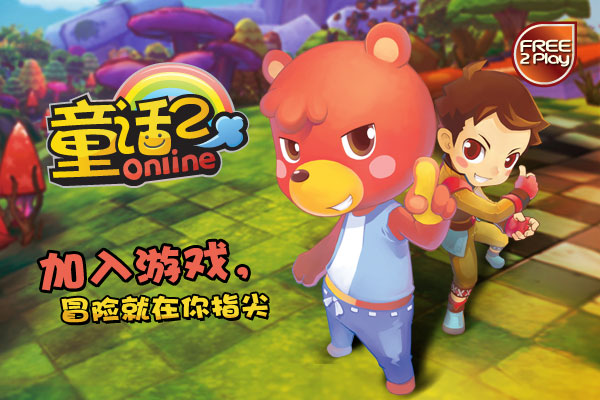 FairyLand 2 is a 3D fantasy MMORPG set in the world of fairytales full of adventures, quests, and lovely creatures. In the game, players can role play characters, make friends, challenge rivals and monsters as well as unlock the story as the game progresses. With real time climate and seasons changing, FairyLand 2 lets your world of fantasy come to life in Full 3D World with a variety of fantasia theme parks and dream scenes around fairytales.
Preview:

With games quests based on well-known famous fairytales worldwide, the lovely and relatable characters like Beauty and the Beast, Alice in Wonderland, The Wonderful Wizard of Oz, Thumbelina and Momotaro, it is easy for the children to immense themselves in the world of FairyLand 2.

Have you ever wanted a pet for your own but was no allowed to do so? Well the adventure never ends in FairyLand 2, here, children are allowed to have a collection of pets with over 480 wonder pets to choose from and collect and YES! They can also be bred and trained. These pets are reliable fighting partners and they make wonderful companions throughout the game play.

For players who enjoy socializing online, FairyLand 2 gets interactive with teamwork game play mode, multi-tools that are interactive with the community, social mini games, activities, free trading and market. FairyLand 2 allows you to expand your social network from friends, families and guilds with rich emoticon, community and instant Avatar interactive.

With various professions to choose from and endless character customization, FairyLand 2 let s your imagination run wild and free as you create your Avatars, own three Characters at one time or even produce your very own items to dress your Avatars. With a vast variety of choices, your Avatars get to switch from fashionable to ready for war in just one click.

"FairyLand 2 does not compare with any other MMORPG games because not only is it engaging, interactive, unique, enjoyable, and exciting it is also in Full 3D World.

Players of all ages will be able to make their fantasy world come to life while having lots of fun and meeting new friends all at the same time. With the famous fairytales and adorable storyline, "FairyLand 2 is a fairytale fantasy that doesn't end; it will only get better." Mr Roland Ong, IAHGames Group CEO.
Feature:

More than 20 unique objects

Storyline with original characters

Rebuildable world map

12 unique extra-spells

120 levels

Bonus mini game level

Magical game - Absolutely FREE
Website:
http://fairyland2.iahgames.com/
Facebook:
https://www.facebook.com/FairyLand2SEA
Download:
Coming Soon (CBT Desember)
System Req:

Minimum Requirements:
OS: Microsoft Windows 98/ME/2000/XP
CPU: Pentium II 400
RAM: 128 MB
HDD: 1.5 GB
Graphics Card: 8 mb video memory

Recommended Specifications:
OS: Windows XP or Vista
CPU: Pentium III 500 or better
RAM: 256 MB or more
HDD: 2.0 GB
Graphics Card: 16 mb video memory or more
Screenshot:
¯¯¯¯¯¯¯¯¯¯¯¯¯¯¯¯¯¯¯¯¯¯¯¯¯¯¯¯¯¯¯¯¯¯¯¯¯¯¯¯¯¯¯¯¯¯¯¯¯¯¯¯¯¯¯¯¯¯¯¯¯¯¯¯¯¯¯¯¯¯¯¯¯¯¯¯¯¯¯¯¯¯¯¯¯¯¯¯¯¯¯¯¯¯¯¯
::Playing::
Guild Wars 2 | Closers Online
::Waiting::
Tree of Savior | Black Desert Online | Soul Worker
Vonic

Masta


Posts

: 575


Join date

: 2010-05-30

on Wed Nov 28, 2012 1:18 pm
¯¯¯¯¯¯¯¯¯¯¯¯¯¯¯¯¯¯¯¯¯¯¯¯¯¯¯¯¯¯¯¯¯¯¯¯¯¯¯¯¯¯¯¯¯¯¯¯¯¯¯¯¯¯¯¯¯¯¯¯¯¯¯¯¯¯¯¯¯¯¯¯¯¯¯¯¯¯¯¯¯¯¯¯¯¯¯¯¯¯¯¯¯¯¯¯
::Playing::
Guild Wars 2 | Closers Online
::Waiting::
Tree of Savior | Black Desert Online | Soul Worker
Vonic

Masta


Posts

: 575


Join date

: 2010-05-30

on Wed Nov 28, 2012 1:18 pm
¯¯¯¯¯¯¯¯¯¯¯¯¯¯¯¯¯¯¯¯¯¯¯¯¯¯¯¯¯¯¯¯¯¯¯¯¯¯¯¯¯¯¯¯¯¯¯¯¯¯¯¯¯¯¯¯¯¯¯¯¯¯¯¯¯¯¯¯¯¯¯¯¯¯¯¯¯¯¯¯¯¯¯¯¯¯¯¯¯¯¯¯¯¯¯¯
::Playing::
Guild Wars 2 | Closers Online
::Waiting::
Tree of Savior | Black Desert Online | Soul Worker

Permissions in this forum:
You
cannot
reply to topics in this forum